What Should be on an Office Relocation Checklist?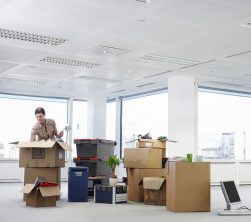 I doubt there is any business that enjoys the process of moving to new commercial premises. It takes a lot of time, stress and organising of services to move to a new office. The up side is that you can move into a newly established or renovated office that can give your company a fresh look and give your staff a boost in morale. If you need to relocate your business then one of the best ways to stay organised is to use an office relocation checklist.
But first, read these helpful tips in conjunction with the list we provide HERE to ensure your planning and office move goes smoothly.
Decide if Relocating Office is Necessary
As it's a challenge to move office and depending on the size of your office and business, the level of challenge may be greater, it is not something that is done often. As an alternative, a business should look at an office refurbishment. To assist you with your decision on moving office, posing the following questions will help:
Can we re-organise the space to be more efficient?
Can we organise the flow of the business better to cater for staff and clients and interaction or consulting where needed?
Can we partition sections of the office to provide required privacy
Can we speak to a neighbouring office about subletting or taking on their entire space?
Are there other floors or office spaces in the building we can use for growth or additional business needs, and hire an office designer to extend our brand and needs?
Consider the Impact of an Office Move on Staff
A study conducted on the impact of an office move on staff showed that it was important for employers to be mindful of staff feelings. People consider change to be quite personal and as a result it can sometimes make an office relocation quite difficult due to resistance and this is especially so if the change is related to how they work.
How to Move Office with Ease
In order to move office easily, the key is to be super organised.
When preparing for office relocation, organizations need to be thorough in their preparation. It can be very demanding to maintain business as usual whilst between offices with office furniture and electronic equipment needed by staff to do their job. Then, your team needs to maintain their professional approach to servicing clients and bringing on board new ones.
Because it is a challenge to move office, it is not something that is done often. As an alternative, a business should look at an office refurbishment unless they are at capacity and need a space that caters for recent growth.
If it really is time to move office but you're not sure where to or how to, then you'll find these office moving tips valuable.  Understanding what you, as a business and your staff need in the desired new office space, should always be a priority in order to achieve a successful relocation.
Make a list of all the things you want in a new office. You can literally do a brain dump and include such things as office workspace size, desks, branding or refresh of your logo, image, meeting rooms and meeting room sizes, an office with natural light, options for a communal outdoor area, floor level inside the new building.
If you are unsure about any of these, then IN2 Space has years of expertise and can provide some further useful information so your space is designed with the future in mind.
A key consideration when moving office is infrastructure. Keep in mind local amenities, facilities, as well as transport connections as this is likely to attract the right staff moving forward yet cater for your current staff.
Use this checklist which will assist you to outline all the things that are necessary and required in your new office space. Choosing the right place for relocation can take some time and consideration, so creating the checklist well before is helpful by giving you an estimated cost. Having a budget will allow you to add or remove from your list as needed or have planned savings for your move. Using an office designer such as IN2 Space who will manage the project from end to end will ensure you stay on budget and on time.
When it comes to searching for relocation spaces, base your search on the most essential items on your checklist, and when you find spaces that can provide those essentials, then you can look more closely at their locations. When you are done with the searches then you can select the few spaces, which are suitable for your office relocation and ultimately meet your size and budget criteria.
It is very important and helpful for an employer to visualize the way in which the new office space will look. Consider where each department would sit, interactions, consulting and collaboration. This will maximize the office space and ensure that visitors are always being guided to the right and correct place. At this point, it's great to include other staff from the business in order to understand what they might like and or dislike and gain different perspectives from them with regards to the relocation of the office and your vision of this.
Company owner(s) should seek advice from professional experts regarding the floor plan of their intended new office space. This is because this is the right time for considering how the new office space branding should be. This is to reflect the work the organisation or company does and to boost the company's reputation. This is also the perfect time for the company owners to decide how their office aesthetics will be. Keeping in mind that branding is not just about the logo but it is a statement within the design of the office that communicates effectively to staff and visitors.
Key Factors as a Summary for your Office Move
Location
Size
Functional requirements
Costs
Design
Get Your Office Relocation Checklist (and move with ease)
Now for your free Office Relocation Checklist. Download it now to make your move easier.
If you want some more great tips on Office Design then we would welcome you to read our write up about how to choose an office space or speak to us today about how we can assist you with your new office. (03) 9348 1999