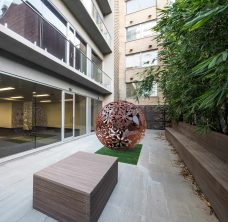 Test A sustainable or 'green' workplace is one that significantly reduces or entirely nullifies the harmful effects it has on both the employees working within it, as well as the natural environment surrounding it. This is achieved through a variety of ways, such as incorporating eco-focused operational strategies, adopting energy-saving technologies, and paying attention to staff needs. Creating a sustainably 'green' office in Melbourne while minimising a fit out's ecological impact – its carbon footprint – can be attributed to the following three basic principles: environmental protection; economic development; and social development.
Office Interior Design Planning
The successful integration of these key principles spans the entire 'life' of an office – from the initial stages of a project's development and its interior design plan, through to its day-to-day operation, as well as future refurbishments, including:
design: office space planning for built-in sustainability through efficient utilities & optimal layout
construction: utilising renewable building materials & environmentally-friendly waste management/recycling services
operational practices: ensuring total energy efficiency & cutting down on wasteful resource use
Workplace Design Planning and Social Factors
Protecting the natural environment by recycling, managing energy consumption, and using natural materials and resources more efficiently is only one focus of a sustainable or 'green' workplace. Sustainability is also concerned with progressive social development through avoiding or resolving physical and psycho-social issues within the working environment such as bullying, stress due to being over-worked, and highly-repetitive or dull, menial labour.
Ethical economic responsibilities are of additional importance to maintaining a sustainable office, by offering wages that maintain a basic standard of living, as well as providing a suitable workspace to ensure the health, safety, and comfort of employees with adequate resources for competent productivity.
All Encompassing Office Interior Design
Working towards these goals is key to establishing a sustainable and 'green' workplace that looks to the future of its surroundings, as well as to that of its employees. This ensures increased levels of job satisfaction, higher levels of workplace efficiency, and ultimately, more success. Through comprehensive office space planning, sustainable business practices focused on environmental, economic, and social development can be achieved – and any Melbourne offices or fit out that takes these spheres into account will ultimately reap the greatest rewards.
---